All Aboard for Intrigue: Murder Mystery Night at East Lancashire Railway
As the wheels of the vintage locomotive start to turn and the train whistle pierces the night, passengers at the East Lancashire Railway prepare for an evening of suspense, intrigue, and thrilling detective work.
Murder Mystery Night at East Lancashire Railway is a one-of-a-kind experience that combines the charm of a historic railway journey with the excitement of solving a mysterious crime. Join us as we embark on this immersive adventure filled with secrets, suspects, and surprises.
East Lancashire Railway, with its beautifully restored carriages and steam engines, offers a glimpse into the past. As you step aboard, you'll be transported to a bygone era of travel, where the elegance of yesteryears is palpable. The vintage setting provides the perfect backdrop for an immersive murder mystery experience, where participants become characters in a thrilling whodunit.
Each Murder Mystery Night at East Lancashire Railway features a meticulously crafted storyline that unfolds throughout the evening. Guests are provided with character profiles, backgrounds, and secrets, turning them into both detectives and suspects. As the train chugs along the scenic route, you'll interrogate fellow passengers, gather clues, and piece together the puzzle to identify the perpetrator.
As you enjoy the scenic journey through Lancashire's picturesque landscapes, a sumptuous dinner is served, creating a cozy and atmospheric setting. The train's dining carriages are adorned with period décor, enhancing the immersive experience. These themed dinners include a gourmet meal that adds to the enjoyment of the evening.
One of the highlights of Murder Mystery Night at East Lancashire Railway is the interaction with actors who play pivotal roles in the mystery. These skilled performers stay in character throughout the journey, providing hints, red herrings, and dramatic moments that keep the suspense alive. It's an opportunity for guests to engage with the story on a deeper level.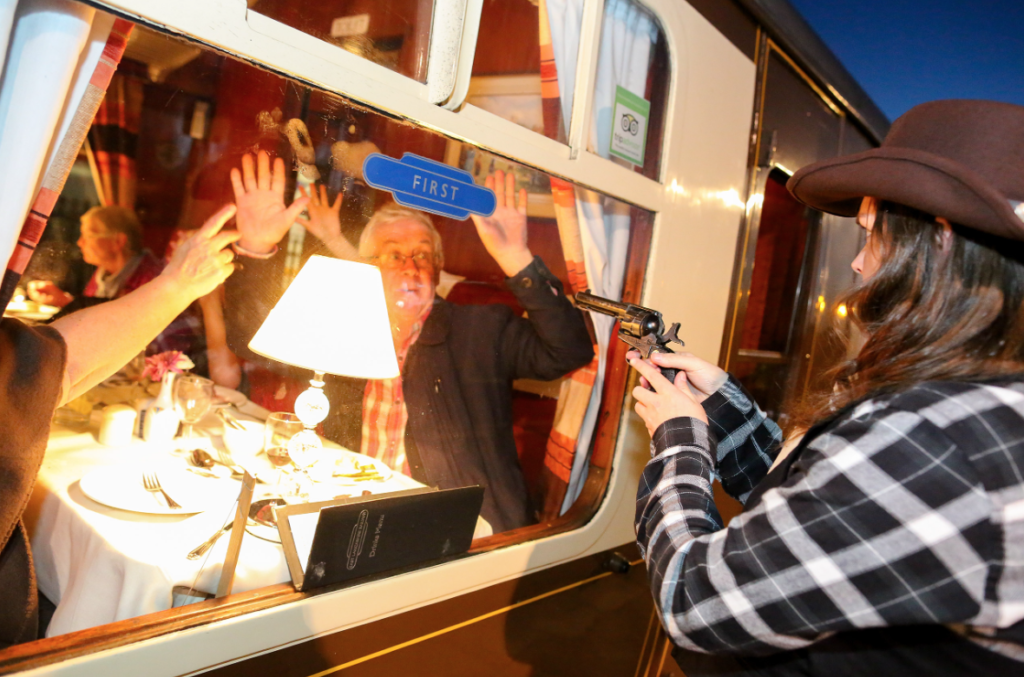 As the train nears its destination, participants are invited to submit their guesses and conclusions regarding the identity of the murderer. The big reveal takes place at the end of the journey, where the truth behind the crime is unveiled. Prizes are often awarded to those who correctly identify the culprit, adding an element of competition and excitement.
Murder Mystery Night at East Lancashire Railway is a thrilling blend of history, entertainment, and detective work. It offers a unique opportunity to step into a world of suspense and intrigue while enjoying the nostalgia of a vintage train journey. Whether you're an amateur sleuth or simply seeking a memorable evening of entertainment, this experience promises an unforgettable adventure through the beautiful Lancashire countryside. So, prepare to don your detective hat, board the train, and immerse yourself in the mysteries that await on the tracks of East Lancashire Railway.