Top 5 Luxury Spa Hotels in the UK
Nothing beats a spa hotel for luxurious pampering when it comes to rest and relaxation. Check out our top 5 picks for hotel spas in the UK.
The Atholl Palace Hotel – Perthshire, Scotland
The wild and craggy Scottish Highlands have a timeless romantic appeal. Pitlochry, the ancient tiny town at its centre, sits where the Tummel River pours into the Tay. The Atholl Palace Hotel is the embodiment of Scottish Baronial beauty, with views of the town and surrounding hills from its forested parkland grounds. Originally constructed in Victorian times as the Athole Hydropathic, the hotel preserves many aspects of the classic big country home, with bedroom facilities and standards that frequently surpass expectations, complementing huge and restful public rooms.
Atholl Palace Hotel preserves many classic big country house qualities, such as distinctive and eccentric bedrooms, fine and informal dining options, spa and leisure facilities, and standards that frequently surpass expectations and compliment expansive and peaceful public areas. They also provide self-catering choices such as Scottish country homes, charming flats, and comfortable self-catering lodges.
The spa, an ideal hideaway, mixes hands-on treatments with relaxation in the thermal rooms and spa pools.
They have prepared a special menu of Phytomer premium performance treatments. Phytomer, which translates to "plants of the sea," mixes marine components from oceanic plant life to create high-performance skincare while keeping a natural organic approach to creative face and body care. The skilled therapist will create a tailored experience from the Lavender Spa's unique therapies. The Lavender Spa is an excellent refuge meant to provide an escape from time itself, offering a wonderful location for daydreaming as your concerns melt, regaining a sense of harmony and equilibrium in your mind and body.
Carden Park Hotel – Cheshire
Carden Park's 1000-acre estate is the ultimate manifestation of escapism, a place where joy, elegance, and a connection with nature coexist.
Experience the extraordinary in the heart of the Cheshire countryside by selecting from a variety of amazing experiences.
The Spa at Carden will devote your mind, body, and spirit to the goal of feeling well, ushering in a new era of health escapism.
You will glide between spa experiences that are nothing short of magical, from intricate and ornate interiors to spectacular luxury spa garden amenities weaved into the gorgeous Cheshire countryside.
The Spa at Carden is a well-being destination inside the Carden Park estate in Cheshire, available as a solo Spa Day or as part of a Spa Break for anyone over the age of 18.
A wide selection of thermal elements, both inside and outside, will allow you to enjoy the spa experience in all weather situations.
You will discover the seasonality of the resort through a spa experience closely linked with nature, whether you are warmed in a panoramic sauna or basking in the outdoor vitality pool.
Elements is a dining experience unlike any other, with breathtaking views of the Spa Garden and the surrounding Cheshire countryside.
Gourmet food that will offer the right finishing touch to your spa experience, from nutritious meals with fresh, locally sourced ingredients to Champagne afternoon teas with expertly presented sweet delights.
Ragdale Hall Spa – Leicestershire
As a family-owned business that has been in operation for 30 years, they take pleasure in providing great service. You'll feel a weight lift off your shoulders the instant you arrive. Whether you stay for an afternoon or a few days, you'll be welcomed with open arms, and the spa's facilities and delicious treatments are meant to help you rest, unwind, and feel at peace, allowing you to reset your body and mind.
All spa days and spa breaks include full use of the pools, Thermal Spa, and Heart + Soul workout facilities and programmes. Every package includes at least one meal with, a robe, and as many towels as you require.
Six distinct pools are included in the spa, including the Rooftop Infinity Pool, a Thermal Spa with 12 heat and water sensations, and a whirlpool. There is something to meet all of your physical and mental requirements.
Three shopping sections provide a chance to unwind and examine a well curated selection of interesting items.
Soho Farmhouse – Oxfordshire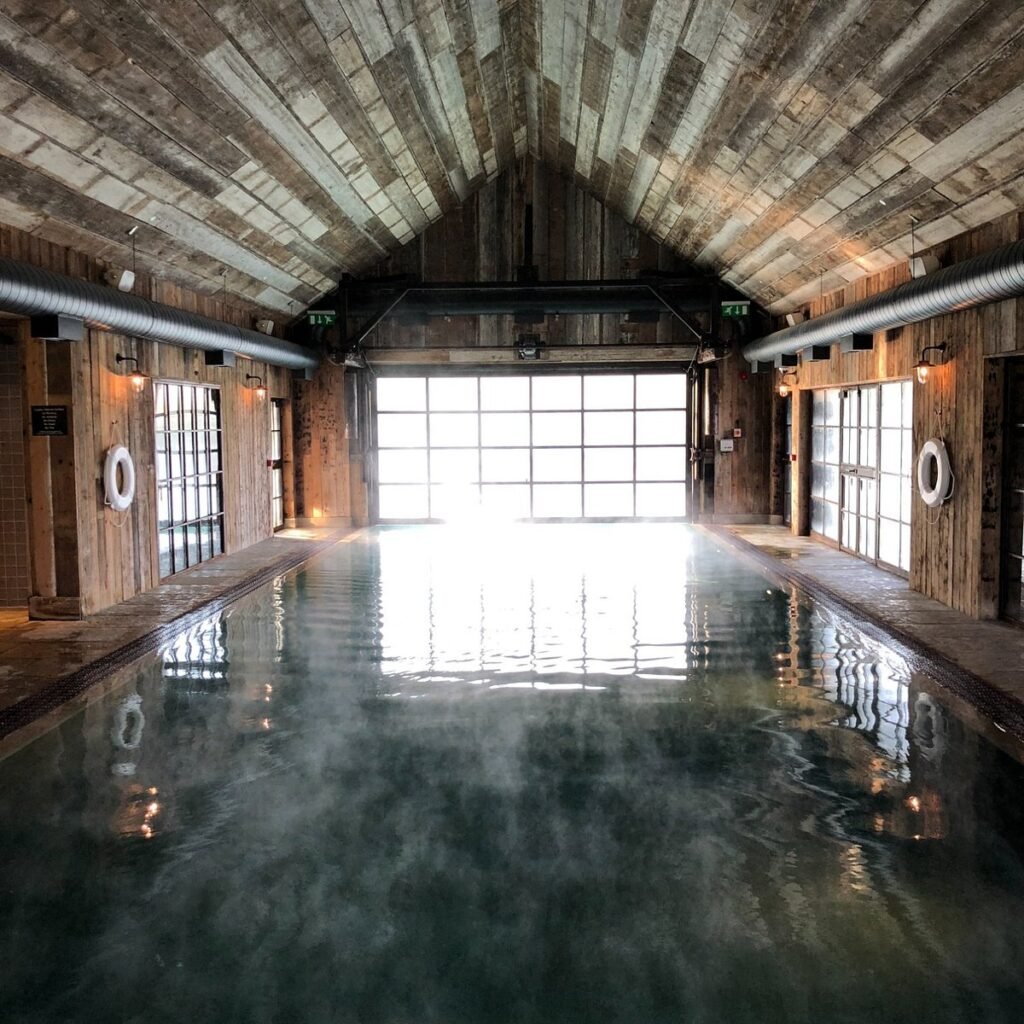 Soho Farmhouse needs no introduction, but for those who are unfamiliar, it is the Cotswolds outpost of the world renowned private members' club-turned-hotel business, Soho House. Aside from the usual outstanding wine and dining options, there are customised bicycles for exploring the grounds, an indoor-out pool, a stable yard providing horse rides, floodlit tennis courts, a gym with studio courses and a massive Cowshed spa. There are 13 treatment rooms, six mani-pedi seats, and a salon space here. (Think about trying the Soho Skin facials, which combine electronics with the group's carefully developed cosmetics.)
The Lazy Lake is a two-hour adventure among forests that may be booked as an extension of the spa amenities. Based on temperature 'contrast treatment,' you will travel from a restorative dip in a sunken hot tub – equipped with face masks and drinks if desired – to an ice room, steam room, and infrared sauna cabin. The tranquil setting is completely lovely, and the experience is exhilarating.
Soho Farmhouse provides all you need for a relaxing countryside getaway. The grounds are car-free (save for antique, renovated milk floats and Porsches for all your transit requirements), and bikes and wellies may be rented. Outdoor activities to attempt include clay pigeon shooting, tennis, horseback riding, and boating. There's also the Electric Barn theatre for film screenings, Soho Home and The Store X for shopping, and a planned event schedule with workshops, talks, bands, and parties.
South Lodge – Sussex
Something is in the air at South Lodge. A sensation of something fresh on the way, a type of rebirth. A chance to unplug from your device and reconnect with your spirit.
They meticulously care for this once-private mansion and the 92 acres of Sussex countryside it sits on (look for their show-stopping rhododendron on the front lawn. It's impossible to overlook). With a secluded rockery, wildflower meadow, natural swimming pond, and their very own vineyard to lose yourself in, you'll quickly forget about the outside world. This Horsham location also boasts an outstanding view of the South Downs.
The soul-soothing (and ecological) spa embodies the ethos of South Lodge, where nature is their greatest source of inspiration. Unobstructed vistas combine with cutting-edge treatments, workout facilities, and pools to provide ultimate relaxation and escapism, allowing you to switch off your mind and turn on your senses.
At Camellia, they prepare seasonally inspired cuisine, while at The Pass, they go all out with private chef's table experiences. And a visit to Botanica is a must, with a seasonal plant-inspired menu and herbal tinctures and tonics that not only taste amazing but also make you feel great. It's time to disconnect from the mundane and reconnect with your senses.