Free Family Friendly 'Love Tamworth' Trail
A new family friendly 'Love Tamworth' augmented reality trail offering mini games and challenges in and around Tamworth town centre is now live.
The trail, delivered by Tamworth Borough Council, encourages people to explore the town centre using an augmented reality app to play simple family friendly mini games. Embark on the trail to explore the town and seek out 11 virtual Love Tamworth tokens by completing mini games at key locations, collect all tokens to be in with the chance to win a prize.
The app comes with a fully interactive map and guide on how to access each point. Simply follow the map to the correct locations then scan the location with your phone and wait for the magic to happen!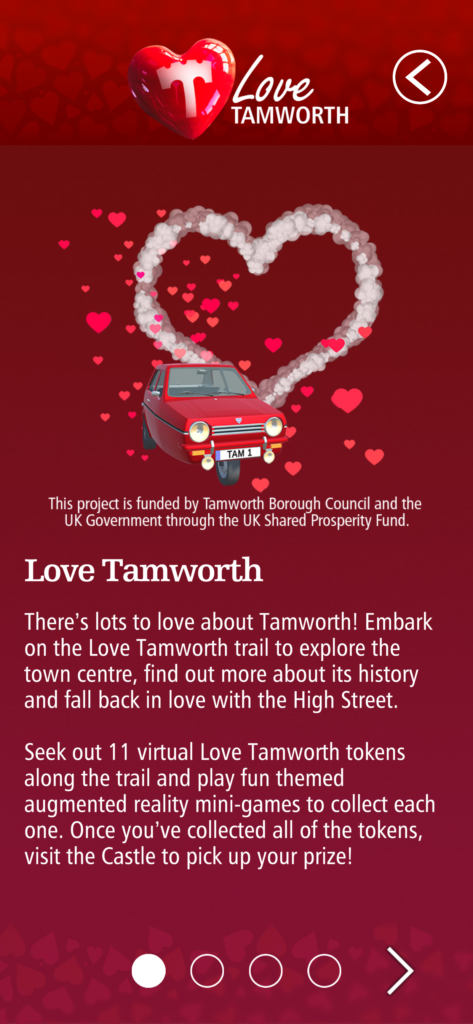 The Love Tamworth trail is the third free augmented reality trail available in Tamworth, others showcase Tamworth's rich history and highlight over 60 food and drink establishments the town has to offer.
People are invited to spend a couple of hours in the fresh air to experience the excitement of the latest technology and discover the 11 AR locations on the trail, and people will hopefully see things in the town that they've not noticed before.
Any age is welcome to take part in the app, but a smart phone is needed to take part.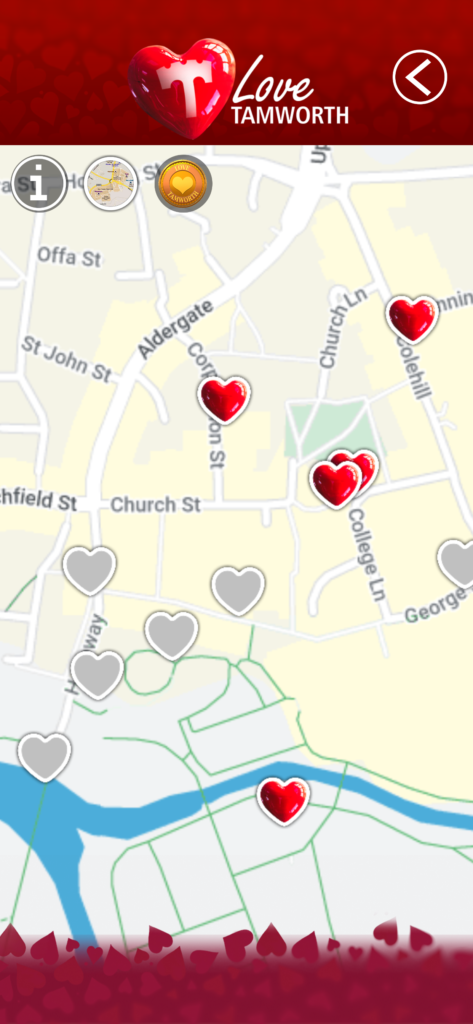 Children's prizes and a monthly prize draw for adults to win £30 vouchers for a Tamworth town centre store are available for anyone completing the trail.
Download any of Tamworth's free apps by searching Tamworth AR trails in the Google play or Apple app store.
Andrew Barratt, Tamworth Borough Council Chief Executive said:
"This new family friendly trail further adds to the free activities people can enjoy in Tamworth, we already have two other free trails and we're currently developing a summer programme of free events to entertain."
Part of the project includes creating a piece of Tamworth themed artwork that includes Aethelflaed, the Lady of Mercia herself and a Reliant Robin on part of the hoarding currently around the former Co-op in St Editha's Square. The artwork is being created on Saturday 18 February by New Urban Era founder Vic Brown and artist N4T4. Vic Brown and the artist will be available to chat to while the artwork is being created from 11am on Saturday.
The artwork forms part of the Love Tamworth app trail, and is an excellent starting point for anyone taking part.
This project is delivered by Tamworth Borough Council and is funded by the UK Government. Tamworth Borough Council has received £15,000 of government funding through the UK Shared Prosperity Fund.