Here Is A List Of Iconic Movies Filmed At Knebworth House
You'll never guess what iconic British classics were filmed in this historical site…
1) Batman The Movie
The Knebworth House courtyard's distinctive entrance. served as the set for Tim Burton's 1989 Batman movie, which featured the mansion as Wayne Manor.
There is a scene in which Bruce Wayne and Kim Basinger's character Vicki Vale dine at Knebworth House, which Tim Burton's DC movie used as the exterior of Wayne Manor.
2) St Trinian's 2
If you grew up as a kid or teen in the 2000s, you might be familiar with the British cult classic film – St. Trinian's. Well, it might be interesting to know that the hilarious sequel (St. Trinian's 2 – The Legend of Fritton's Gold) was partially filmed at Knebworth.
After learning that Rupert Everett's character (Camilla Fritton), the headmistress of St. Trinian's School, descends from a family of pirates. The school's wayward girls embark on a quest to find the schools hidden riches.
"During the production of St Trinian's 2 I gave Rupert Everett a tour of the home," wrote Edward Lytton Cobbold in an exhibit at Knebworth House in June 2019.
3) Victoria & Abdul
This uplifting film tells the true story of the unlikely friendship between Queen Victoria and her young Indian servant Abdul Karim.
Victoria and Abdul movie was shot in a number of castles and stately castles around the United Kingdom. The interiors of Belvoir Castle, together with those of Knebworth House, served as both Windsor Castle and Balmoral Castle.
4) Paddington 2
The team decided to go with Knebworth instead of the darkest parts of Peru for this feel-good family film. When Paddington 2 came out in 2017, it was eagerly anticipated by moviegoers everywhere.
However, there were some rather chilling scenes in the making of this heartwarming adventure. While the movie's fairground scenes are set on a warm summer evening, the actual filming took place during a cold snap at the end of January with temperatures as low as -40 degrees.
Knebworth House's operations manager Trish Washer said: "Paddington Bear is one of those characters that you can't help but fall in love with. The first film was a true delight to watch and we jumped at the opportunity to be involved with the second one. "
5) Eurovision Song Contest: Fire Saga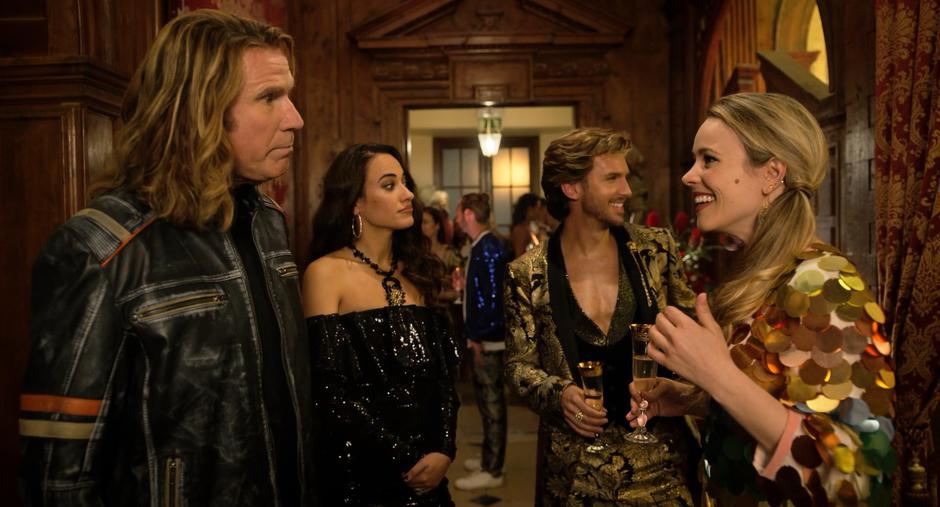 Eurovision Song Contest: The Story of Fire Saga, starring Will Ferrell, Rachel McAdams, Dan Stevens, and Pierce Brosnan, is available to view on Netflix.
Producer and co-screenwriter Will Ferrell and actress Rachel McAdams play Icelandic artists Lars Erickssong and Sigrit Ericksdottir in a tribute to the yearly song contest.
Alexander Lemtov's tasteless and garishly designed mansion is housed in the Hertfordshire stately home.
Prior to the Eurovision finals, Alexander hosts a party in the Gothic home.
"We went to town at Knebworth… It was an absolute joy! We turned it into a modern party house for a Russian bachelor about town." – said Anthony Inglis
Visit Knebworth House
To learn more about this breathtaking site, which the film industry just can't stay away from – click below.